New pelletized grades offer customers greater manufacturing agility and cost-effectiveness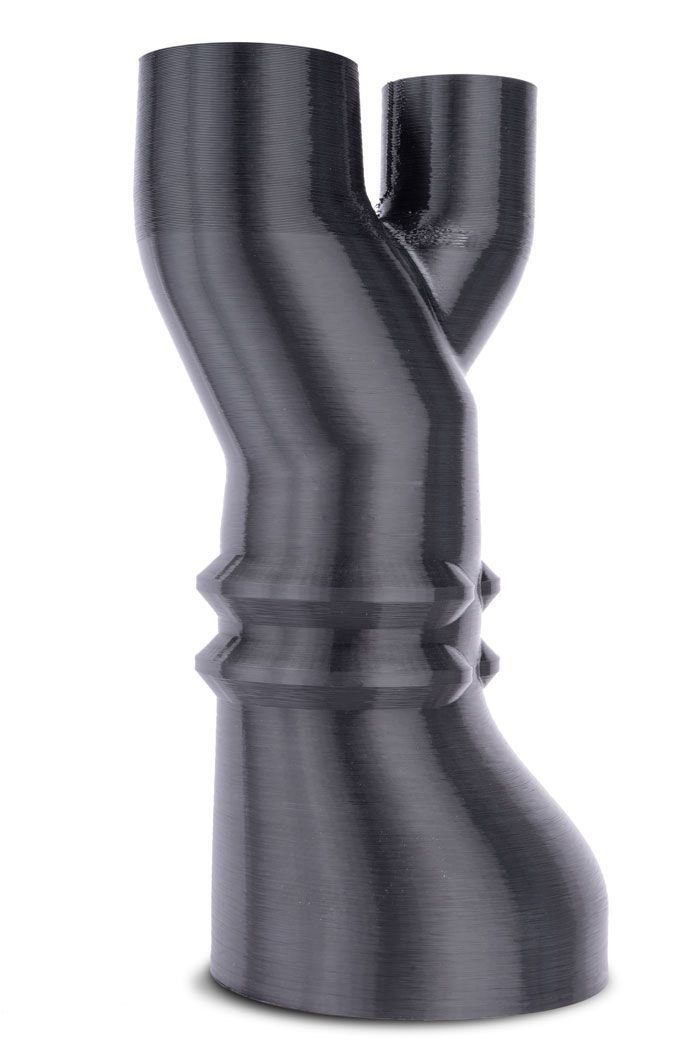 DETROIT, Michigan, May 22, 2019 – DuPont Transportation & Industrial, a global business unit of the DowDuPont Specialty Products Division, is launching here at RAPID + TCT 2019 (booth #552), new additions to the company's portfolio of 3D printing materials, including six new Zytel® polyamide and Hytrel® thermoplastic polyester elastomer (TPC-ET) pellets and two new Hytrel® filaments. DuPont's new pelletized materials for pellet extrusion modeling were developed to help increase 3D manufacturing agility and cost-effectiveness by allowing customers to switch seamlessly from prototyping to small-series, pre-series and mass production—while maintaining similar polymer properties. The new pellets and filaments offer a range of hardnesses, fiber reinforcement options and colors.
The company's R&D programs manager, Jennifer L. Thompson, Ph.D., will give a technical presentation on these new materials, titled "High Performance Materials for 3D Printing" on Thursday, May 23, at 10:15 a.m. EDT as part of the Material Development and Characterization conference session. Thompson will highlight new engineering materials for industrial use, describe alternative 3D printing methods such as pellet extrusion modeling and discuss tailored testing programs for printing materials.
"As 3D printing capabilities advance beyond traditional prototyping and small-volume production, the industry is looking to scale up and accelerate production while driving down costs," said Christophe Paulo, strategic marketer, EMEA, DuPont. "By delivering our products as pellets as well as filaments, DuPont gives customers the flexibility to use the same material across different processes. For instance, they can create prototypes with fused layer modeling and final parts with pellet extrusion modeling – or even injection molding for very high volumes – while maintaining consistent properties. The addition of pelletized materials to our offering supports the trend toward mass customization using 3D printing."
At RAPID + TCT, DuPont is exhibiting automotive ducts and structural components, and a variety of other 3D-printed parts that showcase the diversity and capabilities of its Zytel and Hytrel 3D pellets and filaments.  
Zytel Polyamide for Strong, Rigid Parts
At the event, DuPont is introducing new glass fiber-reinforced, carbon fiber-reinforced and unreinforced grades of Zytel polyamide (PA) pellets and is also featuring the company's previously launched filaments.
The benefits of Zytel® specialty resins have been demonstrated in thousands of applications for more than 70 years. In 3D printing applications, Zytel pellets and filaments build on the material's capabilities to deliver a balance of strength and stiffness as well as ultra-low shrinkage and warpage for strong, rigid, functional parts. They also provide outstanding heat and chemical resistance and lower moisture absorption than PA6 copolyamide, resulting in less variability during printing operations and better retention of properties. The properties of these Zytel pellets and filaments are similar to those of Zytel materials used in injection molding.
Glass fiber-reinforced grades
DuPont's glass fiber-reinforced grades feature a heat deflection temperature (HDT) greater than 150°C, good surface finish and resistance to common solvents and chemicals. The new additions to DuPont's portfolio are:
Zytel® 3D12G30PT Pellets with 30% glass fiber reinforcement (black)
Zytel® 3D12G50PT Pellets with 50% glass fiber reinforcement (black)
Carbon fiber-reinforced grades
DuPont's carbon fiber-reinforced grades are lighter and stronger, making them suitable for highly demanding structural applications in aerospace and automotive. Zytel® carbon fiber-reinforced materials offer an outstanding surface finish, an HDT greater than 150°C and excellent chemical resistance. DuPont now offers:
Zytel® 3D10C20PT Pellets with 20% carbon fiber reinforcement (black)
Unreinforced grades
DuPont's unreinforced Zytel® polyamide grades are suitable for functional 3D printed parts that require good aesthetics and elongation combined with low friction properties. These materials deliver strength and stiffness, good thermal properties (an HDT greater than 100°C) and the signature low shrinkage of all Zytel® 3D printing grades for easy printing. DuPont's new portfolio addition is:
Zytel® 3D1000PT Pellets (natural)
Hytrel TPC-ET for Flexible, Functional Parts
Hytrel TPC-ET is a versatile copolyester available in multiple hardnesses to meet different application requirements. This semi-crystalline material combines the flexibility of rubber with the strength and processability of thermoplastics. Its key properties are heat and chemical resistance, strength, resilience and durability. The extremely low shrinkage of these specialty Hytrel TPC-ET grades makes them suitable for flexible parts.
These pellets and filaments deliver excellent 3D printing performance, including consistent mechanical properties in the X, Y and Z printing directions, low moisture sensitivity during printing, and retention of flexibility in the finished part. As with Zytel pellets and filaments, Hytrel TPC-ET properties are translatable to injection molding.
60 Shore D grades
Hytrel® 3D4100PT Pellets (natural)
Hytrel® 3D4100FL Filament (black)
40 Shore D grades
Hytrel® 3D4000PT Pellets (natural)
Hytrel® 3D4000FL Filament (black)
These new pellet and filament technologies significantly enhance the DuPont portfolio of semi-crystalline materials for extrusion-based additive manufacturing.
About DuPont Transportation & Industrial
DuPont Transportation & Industrial(T&I), a DowDuPont Specialty Products Division business, delivers a broad range of technology-based products and solutions to the transportation, electronics, industrial and consumer markets. T&I partners with its customers to drive innovation by utilizing its expertise and knowledge in polymer and materials science. T&I works with customers throughout the value chain to enable material systems solutions for demanding applications and environments. For additional information about DuPont Transportation & Industrial, visit plastics.dupont.com.
About DowDuPont Specialty Products Division (DuPont)
DowDuPont Specialty Products, a division of DowDuPont (NYSE: DWDP), is a global innovation leader with technology-based materials, ingredients and solutions that help transform industries and everyday life. Our employees apply diverse science and expertise to help customers advance their best ideas and deliver essential innovations in key markets including electronics, transportation, building and construction, health and wellness, food and worker safety. DowDuPont intends to separate the Specialty Products Division, which will be called DuPont, into an independent, publicly traded company. More information can be found at www.dow-dupont.com.